Fitness Performance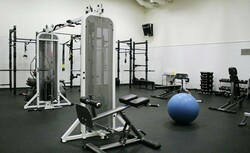 Fitness and Performance 1/2/3 is a program that will provide students with the opportunity to explore the world of athletic performance and training.
Course delivery is done through module-based CTS course material and hands-on experience with the training facility. During academic components, students are expected to come prepared to work in a self-guided and motivated environment.
During training components, students are required to come prepared for guided intense training and conditioning sessions that employ a variety of different training methodologies. Students are expected to be self-motivated, responsible, and focused in order to achieve program success.
General topic overview of materials covered within the scope of this course includes anatomy & physiology, physical & mental athlete training and nutrition. At the conclusion of this daily course work, students will transition to the gym or outside field areas for Phys. Ed. activities. As a result, since this course is paired with Phys. Ed. 10/20/30 students are able to complete these three-credit courses depending on the grade level of the student.
To register for the 2019/2020 school year, please call Monsignor McCoy High School at 403.527.8161.
What curriculum aspects does the Fitness and Performance class cover?
Fitness and Performance 1: This course will take place during one class period each day during one semester, and allow students to earn 6 credits towards their Alberta High School Diploma: This is achieved through the 3-credit Phys. Ed. 10 program, and 3 1-credit CTS modules. These modules include REC 1040 (Foundations for Training 1), REC 2040 (Foundations for Training 2), and REC 2010 (Nutrition for Recreation Activities and Sport).
Fitness and Performance 2: will also be a 6 credit course involving Phys. Ed. 20 and CTS modules REC 1050 (Sport Psychology 1), REC 2045 (Training for Core Muscles), and REC 3015 (Flexibility Training).
Fitness and Performance 3: will be developed in a similar model for the 2020-2021 school year.
Where will the Fitness and Performance Training Sessions be held?
Each day throughout the semester, students will begin the class, either in a classroom, or in the fitness area to study and complete module work. After about 40 minutes of class time, students will move to the gymnasium or outside for Phys. Ed. activities.
When will the Fitness and Performance Class be scheduled?
The program will take place during a morning class each day, during the first semester of the school year. This will allow students to use flex time to complete workouts and module work if needed. These classes take place immediately before and after a 40-minute flex block.
What community partners are involved in this program?
Alberta Sport Development Centre (ASDC) provides services to athletes and coaches throughout Alberta in order to allow athletes to train at a high level without the need to move to larger centers.
Monsignor McCoy's Fitness & Performance Program will be enhanced by a partnership with ADC. Their personnel will be working with the students in this program at various points during the semester. One of their strength and conditioning coaches will assess each student and give them individualized programs at the beginning of the semester, visit with them during the semester, and reassess them near the end of the program.
This will allow students in the program to have a personalized training program based on preset fitness levels and goals. The sports nutritionist will speak with the students about the importance of proper eating and nutrition while they train and throughout their lives.
What is the cost of the program?
The program fee will be $35 for the one-semester program. This fee will be used to cover the costs of ASCD personnel.
Meet our instructor: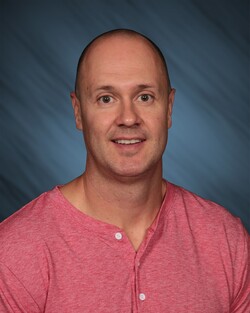 Instructor: B.J. Melle
Husband and father of two children.
Graduate of Monsignor McCoy High School 1994
Played 5 years of College/University Basketball

Medicine Hat College Men's Basketball "Rattler Award" 1996
Medicine Hat College Men's Basketball "M.V.P Award" 1997
Medicine Hat College "Male Athlete of the Year" 1997

Bachelor of Science (Kinesiology) University of Saskatchewan
Bachelor of Education University of Saskatchewan
17 Years Teaching at Monsignor McCoy High School

Social Studies
Physical Education
Fitness & Performance 

17 Years Coaching Varsity Boys' Basketball at Monsignor McCoy High School