Back to all posts
Posted on
Colts Take Home Gold at Super South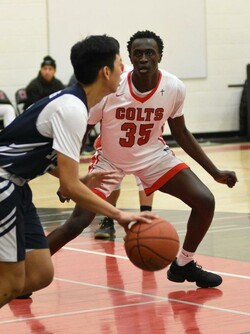 The McCoy Colts varsity boys basketball team hosted and won their own Super South Tournament this past weekend.
After dismantling Eagle Butte 93-65 Thursday to begin the eight-team event, the Colts won twice more Friday to win their round robin bracket. After an 83-63 win over W.H. Croxford, they pasted W.R. Myers 84-59.
The final was more of the same, a 97-61 win over Swift Current Composite. Bubu Benjamin racked up 39 points, 15 rebounds and five assists in just 30 minutes according to McCoy's online statistics. Kameron Roberts added 17 points including hitting five of seven three-point shots, while Ethan Smith had 15 including four threes.
The junior Colts also made their playoffs. Playing in a 12-team event, they beat Kate Andrews 81-60 and Foothills 67-59, but fell 55-47 to Chestermere Saturday.