Back to all posts
Posted on
Summer Work Experience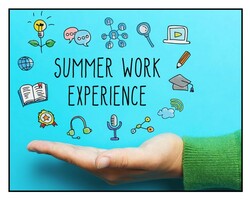 GET A CONTRACT!
If you get a job this summer and want Summer Work Experience credits, you MUST have a contract BEFORE hours can be counted.  Students must complete HCS3000: Workplace Safety Systems prior to enrolling in Work Experience 15, 25, or 35.  Most students will have completed HCS3000 in their grade 10 CALM class. Click on the links below to print and fill out the WE Contract and/or timesheet.
COMPLETE/HAND IN CONTACT - Mrs. Shulson
When you have completed filling in the contract and it is signed by you, your parents and your workplace supervisor be sure to email it to Mrs. Shulson immediately.  She will go to the work place and get you set up with time sheets and credit procedure.
BENEFITS
¨ 15 Credits (25 hours/credit) can be used towards earning a high school diploma. 
¨ Time table flexibility
¨ 10 credits can be put towards the 30 credit requirement for grade 12 credit load
¨ Work Experience grades can be applied towards earning the Rutherford Scholarship for grades 10/11/12
Email or call or text Mrs. Shulson at rylee.shulson@mhcbe.ab.ca  or 306 661-0662
any time if you have any questions.