Back to all posts
Posted on
School Re-Entry Plan (Scenario 1)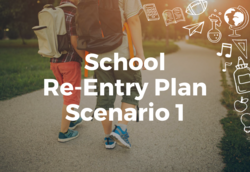 Message from the Principal of Monsignor McCoy High School - Mr. Paul Bauche
As we move closer to the start of the 2020-2021 school year, I would like to share with you
important information on Monsignor McCoy High School's return to school plan. We recognize
that this year's return to school will be different for our families and staff. The realities of the COVID-19 pandemic have made it essential for measures to be put in place to make sure that we are doing all that we can to ensure student and staff well-being, as this remains our top priority. As we prepare for the upcoming school year, we have been diligently working on a re-entry strategy to minimize risk and help keep everyone as safe as possible.
It is important to note that our surroundings are changing, and we all have a responsibility to ensure the safety of ourselves, and others. To this end, Monsignor McCoy High School will approach all of the safety measures from the perspective of helping students learn new behaviours and strategies to stay healthy in a world where COVID-19 continues to be a threat. Monsignor McCoy High School will be implementing a variety of safety measures to ensure the health and safety of our schools:
Daily health checks prior to entering the school
Limited access to classrooms by parents and volunteers
Stay at home protocols for those that are not well
Enhanced cleaning and sanitizing practices
Staggered entry strategies to reduce student contact during high traffic periods including
the start of the day
Physical distancing (when and where possible)
Implementation of a cohort model (when and where possible)
Mandatory mask wearing by all staff, students, parents/guardians, volunteers and
visitors while in the school (with some exceptions)
An infirmary room provided on-site in the event of illness during school hours
Supporting AHS with contact tracing through record keeping (e.g. seating plans, visitor
logs)
Guidance for School Re-Entry Scenario 1 (Government of Alberta) August 20, 2020
This document will continue to be updated based on orders from the Chief Medical Officer for Health, recommendations from Alberta Education, and the discovery of new evidence.