Back to all posts
Posted on
Open House Feb 12 - Grade 9 Orientation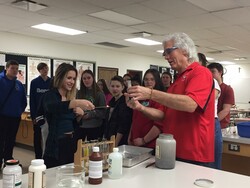 Students from St. Mary's and Notre Dame visited Monsignor McCoy Jan 31 for orientation to high school. Students toured the school, met staff and participated in information sessions. McCoy will hold an Open House Tuesday Feb 12 from 5-7 pm. Parents and students are encouraged to check out the newly renovated school and investigate the excellent programming options available to students.
Click here for photo gallery of Jan 31 orientation.
Click here for our exceptional accountability pillar results for 2018.