Back to all posts
Posted on
McCoy Virtual Athletic Awards 2020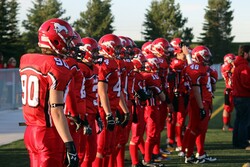 This year at Monsignor McCoy we are unable to host our annual Athletic Awards Banquet that is scheduled on Monday, June 8th due to COVID-19. However, we would still like to honour those McCoy athletes who were able to participate in the seasons this past year by announcing our annual award winners during the week of June 8th-12th via social media. Each day at noon on our Monsignor McCoy High School Facebook Page we will post individual award winners for teams according to the following schedule: 
Monday, June 8 - Cross Country & Golf
Tuesday, June 9 - Football
Wednesday, June 10 - Volleyball
Thursday, June 11 - Basketball
Friday, June 12 - Brad Jackle Award
Thanks to all the athletes who did an amazing job on all the McCoy teams this past year. Simply the Best Nothing Less.