Back to all posts
Posted on
McCoy Colts Tier 1 Provincial Baseball Champions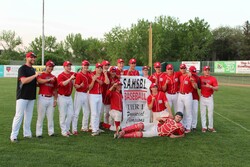 Monsignor McCoy Colts Baseball team captured their second straight provincial title in an extra innings thriller vs MHHS Mohawks.  Tied 7-7 in the eighth end, the  Colts bats unloaded for three runs to take a commanding lead into the bottom half, holding on for a 10-7 victory.
Congratulations to Head Coach Intek Hong, assistant coaches and all the players.
Click here for information about the McCoy Baseball academy (new for 2019-20) as well as pictures of the championship game.