Back to all posts
Posted on
Athletes of the Year - Kassidy Rae & Caleb Kinch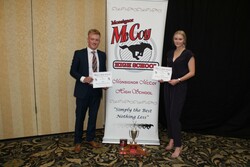 Monsignor McCoy celebrated its athletes June 10 at the Medicine Hat Lodge, culminating in a special honour for two of them.
Kassidy Rae and Caleb Kinch were named winners of the Brad Jackle Award, for both their excellence in sports but also in the classroom and as leaders.
Click here for the Med Hat News article and a full list of award recipients.
For a photo gallery of award recipients click here