Back to all posts
Posted on
Summer Work Experience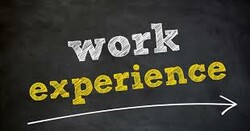 Summer Work Experience
How does it work??? It's easy as 1,2,3!
Get a job (or you already have one)
Pick up or download a work experience contract from the library or main office (fill it in and return it to Mr. Immel (403-952-6061), Mrs Gloin (403-866-8161), or Mr. Graf. Text a supervisor as soon as your contract is completed!
Keep track of the hours you've worked on a timesheet (Mr. Immel or Mrs. Gloin will contact you once you've handed in your contract and explain how to fill in timesheet) Timesheets are available in library or front office or downloaded from McCoy webpage. Every 25 hours = 1 credit.
Benefits of Work Experience
Earn up to 15 credits which count towards your High School diploma
Work experience credits can be combined with in-class grades for scholarship opportunities.
Work experience can start and stop anytime during the year including summer (not semestered) and illustrates diversity on your high school transcript.
Provides real-life experience and timetabling flexibility.
You must contact a supervisor and have a contract before hours worked can be used to earn credits! HSC 3000 is a prerequisite for work experience and is typically completed in grade 10.