Back to all posts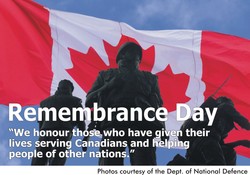 Remembrance Day is commemorated on the 11th November each year, and marks the end of World War I in 1918. It may also be commonly known as Armistice Day. This year marks the 101th anniversary of Armistice Day.
On Remembrance Day, Canadians pause to honour the men and women who have served, and continue to serve Canada during times of war, conflict and peace. More than 2,300,000 Canadians have served and more than 118,000 made the ultimate sacrifice.
The poppy is the symbol of Remembrance Day. In the run up to Remembrance Day, replica poppies are sold by the Royal Canadian Legion to provide assistance to veterans.
11th November marks the signing of the armistice (peace agreement)  between the Allies and Germany at Compiègne, France.
The armistice took effect at eleven o'clock in the morning - the "eleventh hour of the eleventh day of the eleventh month."
After the 'end' of the war in 1918, it didn't take long before the signing of the armistice was adopted as a suitable time and date for countries involved in the war to mark the sacrifice of their soldiers, with official remembrance services taking place in Canada in 1919.