Back to all posts
Posted on
How to Pick up Items From Student Lockers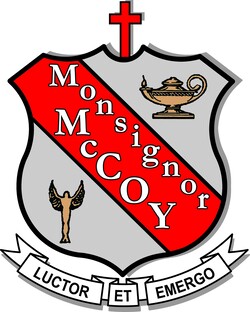 Dear Students and Parents,
The staff at Monsignor McCoy has worked hard packaging up all student belongings from a variety of places within the school such as the lockers in the hallways and the PE change rooms as well as any items found in the classrooms and gathering spaces. All the students' items that have been collected have been individually bundled and labelled according to the student's name and/or locker number and have been brought to the front of the school. 
In order to follow the guidelines laid out by the Alberta Government, we would like students/parents to stop by McCoy to pick up these items between the hours of 8:30am-2:30pm from Tuesday March 17 to Friday March 20.  Further to this, all students should keep at home any books, such as textbooks, novels etc. that they need to help them with their courses. However, if students presently have any items that belong to the school such as band instruments, team uniforms, or items they don't need to help them with their courses please return them to the school this week according to the earlier schedule.  If you have any questions regarding picking up or dropping off items at Monsignor McCoy, please don't hesitate to contact the school at (403) 527-8161.
Monsignor McCoy High School